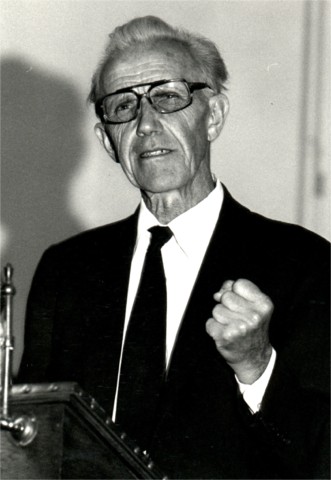 "My testimony is now that far from being despondent over loss of sight, I am rejoicing in the Lord, testifying of His abundant Grace, not just to endure some affliction, but to REJOICE, not just patiently trying to bear up under a cross, but rather VICTORIOUS."--Orland Wolfram
Rev. Orland Wolfram: Sermons, Articles, and Letters
The late Rev. Orland Wolfram, "Brother Orland," who lived a life of sacrificial ministry, was a man of many gifts. He was prolific in letterwriting and wrote, as well, numerous articles and sermons concerning the Bible and Christianity. Those we have reproduced here come mainly from the collection of Robert and Pauline Dallenbach. Some of them contain personal references, which we have chosen to retain.
It was frequently the case that his writings would mention a date but no year. It is difficult at this time to assign dates to most of them.
Though Brother Orland left this life in 1987, the work which he pioneered in Guatemala among the poor and hopeless lives on and, in the words of our Lord Jesus Christ, bears much fruit.
If Bro. Orland's descriptions of the needs in Guatemala touch your heart and you are led to give, you may send your contribution to "Go and Tell," 3455 West 83rd Avenue, Westminster, CO 80031 USA. Go and Tell is a missions radio program and fund of the Pillar of Fire Church, personally produced and administered by Dr. Donald J. Wolfram, Bishop and General Superintendent of the Pillar of Fire, Bro. Orland's brother.